The City Walls and The City Gates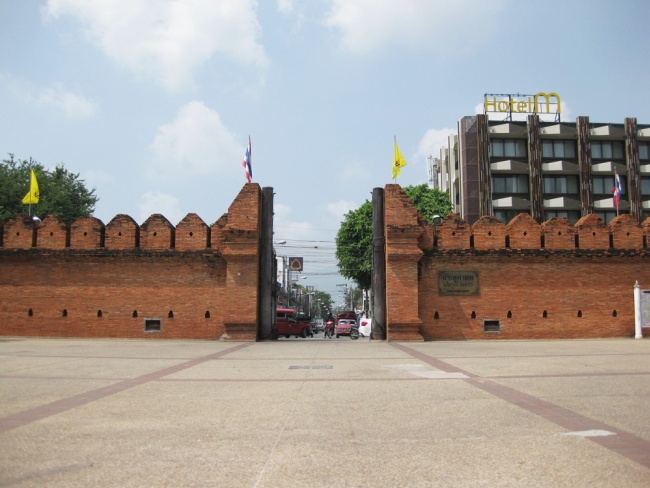 Detail:

The remained evidence of its old time history are walls and gates gracefully atand between Doi Suthep , the natural monument and landmark and the Ping River.

In 1296AD., the troop of 50,000 strong men of King Mengrai had dug the moat around 4 sides of the city. They also made the hill lock along the moat and thounsands od bricks were used to prevent land tumbling down. "Jaeng Sriphoom" or " Sriphoom corner" at the northeast was respectes as the best point to start while the 5 gates of 4 wah wide were in the middle of each side as follows :

1) Hua Wiang Gate or later named Pratoo Chang Puak ( White Elephant Gate) 0n the north side of the wall. The present name is named after the 2 elephants used in the battle and gained victory over the enemies. Now it is next to the previous bus terminal on Chotana road.

2) Tai Wiang , now called Pratoo Chiang Mai was built on the south wall. No evidence reveals the reason of name changed

3) Pratoo Thapae or Thapae Gate at present, is on the east wall . Being named Thapae from the beginning because it connected directly to the river where rafts and floating housed of the traders along the river from the central areas would come to town.

4) Suan Dok Gate or Royal Garden Gate is on the west side. From this gate we can go to royal garden where now are Suan Dok Temple and Suan Dok Hospital ( Maharaj General Hospital)

5) Suan Proong Gate was punctured through the wall when the wife of Sean Muangma the prince who was the mother of Samfungkaen the 10th King of Mengrai didn't like to stay iin the wall. Suan Rae Palace was built at the present area of Suan Proong Psychiatric Hospital. Since she who lived out of the walls, was authorized by her son, during 1411 – 1415AD.,to supervise and finish the contruction of the Grand Pagoda ( Chedi Luang). For her convenience, the gate was then built and call "Suan Poong" because this gate also used to take out the prisoners for the execution by using the sharp stick, strapped in to the stomach. Later on the named had changed to Suan Proong as we know now.

The walls and the gates were significantly reformed in 1519AD , the year of Muangkaew the prince and the last long until 600 years later. Unfortunately , only half of the century when the walls and gates demolished due to the values and unbalance of the developments. However the remains are still cling us to its elegance.
Date: 2012-10-05 22:16:41